Puente Nuevo Campus, the headquarters of the Corporate University, is a peaceful and relaxing place. An adapted space that guarantees success for any event or meeting, converting the initiatives that take place there into unique experiences
Construction of the residential village for staff of the Puente Nuevo Hydropower Plant.
Conversion of the village into a training and business centre for its employees.
The centre becomes the headquarters of the Corporate University.
Opening of the campus to external companies, professionals and education centres.
Puente Nuevo Campus covers an area of over five hectares, housing various sports facilities and healthy walks for enjoying nature while relaxing.

The facilities include six auditoriums for events and meetings, as well as 35 classrooms fitted with next-generation technology for meetings and training sessions.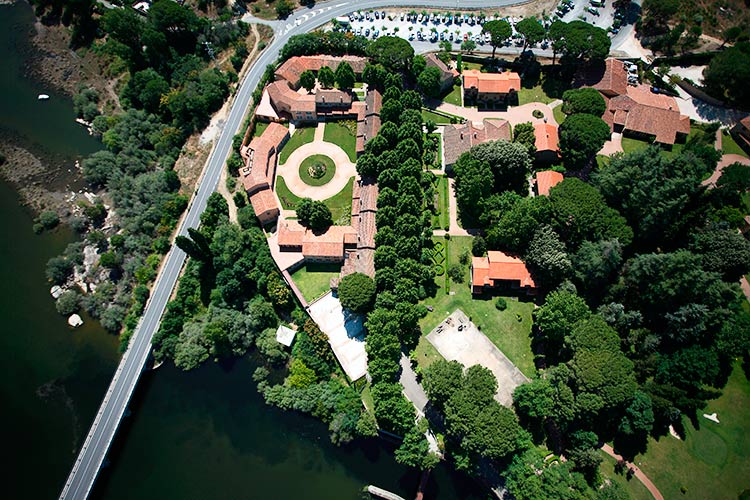 Education facilities with next-generation technology for all sorts of event. With six auditoriums and 35 classrooms spread over seven buildings, one of which is dedicated to language training.
With a sauna, swimming pool, padel tennis courts, multi-purpose courts (basketball, tennis, football, volleyball), bicycles, pétanque and other traditional games.
Restaurant with room for 168 covers and barbecue with space for 150 people and  a chill-out zone.
Various customisable spaces with: digital TV/DVD, bar, karaoke and DJ, games room (pool, electronic darts, table tennis, table football) and terrace.
Spacious and multi-purpose
Five hectares in unbeatable surroundings.
For enjoying nature and getting to know our botanical diversity.
A one-kilometre trail created for you to enjoy while looking after your health.
Space in which books, DVDs and various board games can be enjoyed

Surrounded by the Gredos Mountains, less than one hour from Madrid, the Puente Nuevo Campus offers an opportunity to disconnect, reflect and find inspiration from nature.