Through innovation, we can turn risks into opportunities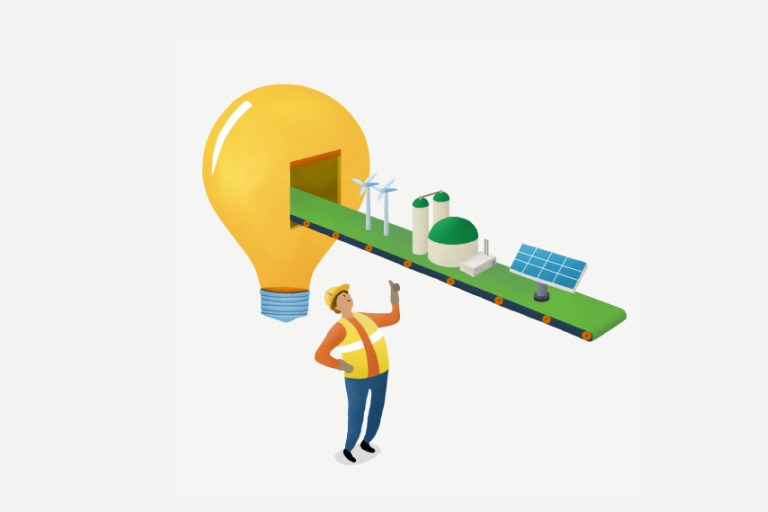 We are committed to a balanced energy mix and efficient management of renewable resources, developing innovative initiatives and projects.
We develop commercial-scale projects to produce renewable gas and inject it into the network, thereby promoting a sustainable and circular energy model.
We produce renewable gas for use in the domestic, industrial or mobility sectors via electrolysis, preferably with surplus renewable electricity.
We develop sustainable solutions for both heavy- and light-duty transport related to the use and development of biomethane, green hydrogen, electricity and VNG.
We have smart systems and infrastructures that enable us to decentralise power distribution points, revolutionising current models.
Learn more about our innovation projects
At Naturgy, we believe in innovation as a commitment to promoting energy efficiency, sustainability and the fight against climate change. That's why we have various projects to tackle the challenges faced by the energy sector, as part of our vocation and commitment to society. 
Renewable generation and storage
Photovoltaic test field in La Nava
This project involves installing bifacial panels at the La Nava photovoltaic power plant in Ciudad Real to conduct testing and optimise management. The test field was created to maximise the profitability and competitivity of photovoltaic power plants, thereby driving forward the development of renewable energies.
Another success story is the construction of a biomethane upgrading plant at the Elena landfill, a closed landfill site that produces biogas located within the emblematic urban development project Parc de L'Alba in Cerdanyola del Vallès. Thanks to the installation of this plant, the biogas generated is not burnt off in a flare, and the renewable gas can be used in the gas network. Installed in June 2021, this facility was the first to inject renewable landfill gas into Spain's gas distribution network.
One of the company's success stories in this field is the mixed renewable gas unit, which, alongside EnergyLab and the Public Water Treatment Company of Bens (A Coruña), has achieved outstanding results, such as the commissioning of a membrane-based purification plant in the Bens water treatment plant and the first biological methanation plant in Spain. Additionally, research will be carried out on other renewable gases such as green hydrogen and bio-syngas to assess the impact they have on current infrastructures and end consumers' facilities.
Vilasana biomethane plant
The Porgaporcs agri-food plant owned by Ecobiogas in Vilasana (Lleida) puts all of the organic and pig waste that it receives into a digester to produce biogas, which is then refined and converted into biomethane. The plant has a biomethane refuelling pump where two types of vehicles involved in the pilot project have already filled up their tanks: two light-duty Seat cars and a heavy-duty municipal waste collection vehicle.
Development of the largest green hydrogen plant in Spain, with the aim of producing approximately 9,000 tonnes of renewable hydrogen every year from a 400 MW photovoltaic power plant and an electrolyser with power of up to 60 MW to cover local consumption, to be injected into the gas network and possibly to be exported to north-western Europe in the future.
National hydrogen station network
Project to build 38 hydrogen stations all across Spain to provide hydrogen refuelling services in urban areas and inter-city settings, thereby strengthening sustainable mobility on the Iberian Peninsula.
Network of renewable electric car charging points
Development of a public infrastructure of rapid and semi-rapid chargers in urban areas with a population of over 50,000 people that must have low-emissions zones, as well as every 200 km along the main inter-city roads, in an effort to democratise electric vehicles and provide an alternative charging infrastructure for all clients that do not have access these facilities in their homes.
Development of a solution to facilitate the supply of liquefied natural gas (LNG) by tanker lorry, connecting directly to vessels or another supply infrastructure in order to transport LNG to previously inaccessible areas.
We have developed a lab with small-scale self-consumption and electrochemical storage technologies that will enable us to create more efficient solutions for each specific case proposed by our clients.
Its general objective is to investigate a flexible set of green hydrogen production and storage technologies based on harnessing waste and by-products in an effort to significantly improve the production costs and efficiency of this energy vector.
Renewable generation and storage
This project will research the technological basis for improving the competitiveness of seasonal renewable energy storage using green hydrogen. UNDERGY proposes activities to harness renewable energy by integrating renewable generation and high-capacity seasonal energy storage into a smart grid.